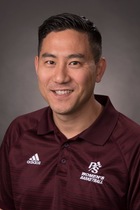 Puget Sound Director of Athletics Amy Hackett announced Casey Kushiyama as the Loggers' new head women's basketball coach. Kushiyama becomes just the fourth Puget Sound women's basketball coach in the past 30 years.
"We are so very pleased to have Casey joining the Logger community," said Hackett. "Our national search produced some strong candidates, but Casey continued to pull ahead with his connection to regionally and nationally successful programs, his ability to recruit outstanding student-athletes, and his appreciation and understanding of the mission of a selective liberal arts college and NCAA Division III, made him our undeniable top choice."
Kushiyama spent the past five seasons as the top assistant at Whitman College, where he helped lead the Blues to the three NCAA National Tournament appearances (9-3 overall in NCAA tournament games). Whitman's postseason runs include an NCAA Elite-8 showing in 2016-17, and a national runner-up season in 2013-14. The Blues were 62-18 in NWC action during his time at Whitman.
"I'm very excited to work with this young Logger team that is already established as a national power, and I'm looking forward to taking the program to new heights," said Kushiyama. "I am grateful to Amy Hackett and the Puget Sound administration for giving me this opportunity. I appreciate all of the coaches I've worked with in the Northwest Conference who have helped prepare me for this moment."
Kushiyama's NWC roots run deep, and his experience developing and coaching with national caliber programs extends beyond Whitman. Kushiyama was a member of the George Fox women's basketball staff when the Bruins reached the national title game during the 2011-12 season. Kushiyama was a basketball student-athlete at Linfield College of the NWC and also served as an assistant coach for his alma mater's men's basketball team for three years, serving as the Wildcat's Head Junior Varsity Coach. He joined the Whitworth men's coaching staff for the 2008-09 season, when the Pirates were NWC Tournament Champions and reached a No. 7 national ranking.
Kushiyama was called to return to his alma mater to serve as the Interim Head Coach for the Wildcats' women's basketball team for the 2009-10 season, doubling the program's win total from the previous season.
Kushiyama inherits a talented Logger team that captured the 2016-17 Northwest Conference title with a perfect 16-0 record and advanced to the second round of the NCAA Division III Tournament.
Kushiyama earned a Bachelor of Arts in Elementary Educations from Linfield, and he received a Master's in Teaching – Secondary Education (Health) from Grand Canyon University.